ATLAS Q&A Video: CARES Act and FFCRA for Individuals and Families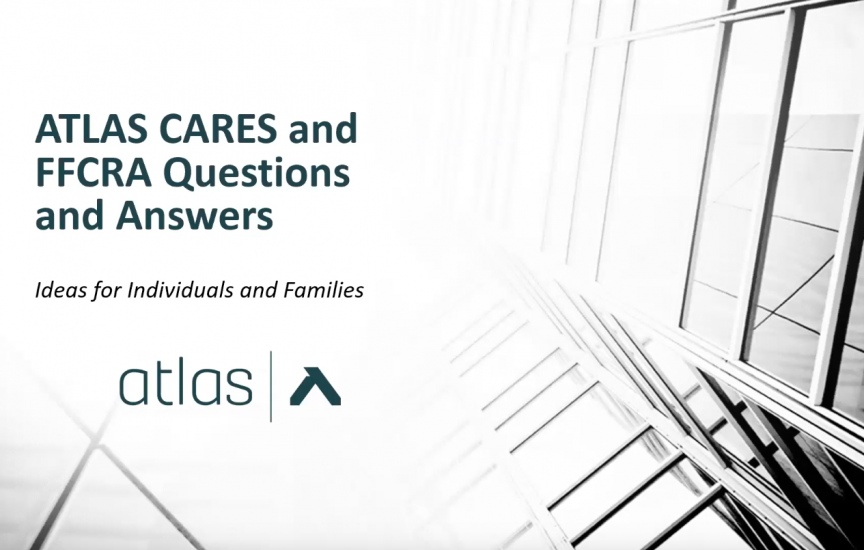 You are Reading..
ATLAS Q&A Video: CARES Act and FFCRA for Individuals and Families
Please enjoy the first of several videos we will be providing on your most frequently asked questions on the CARES Act, FFCRA and other legislation in response to COVID-19. We know this is a confusing and difficult time for people so we hoped to gather as much information as possible to answer your questions in one video.
This video is specific to questions regarding individuals and families. If you have additional questions or feel a question you sent in was not answered, please do not hesitate to contact us here.
Updates:
If the IRS does NOT have your direct deposit info-
In the coming weeks, the Treasury plans to develop a web-based portal for individuals to provide their banking information to the IRS online, so that individuals can receive payments immediately as opposed to checks in the mail.
Do you need to file a 1040?
IRS has previously changed from requiring people that did not have to file a 1040 in the past to having to file. They are NOW  saying they will track people via their SSN statement.
Next up:
Answers to questions on The CARES Act and FFCRA regarding businesses.
As well as answers to your questions about SBA Loans.
These videos are also available directly on our YouTube channel.